Mr. Rishi Chana
Hip & Knee Surgeon
Joint Preservation & Reconstruction Specialist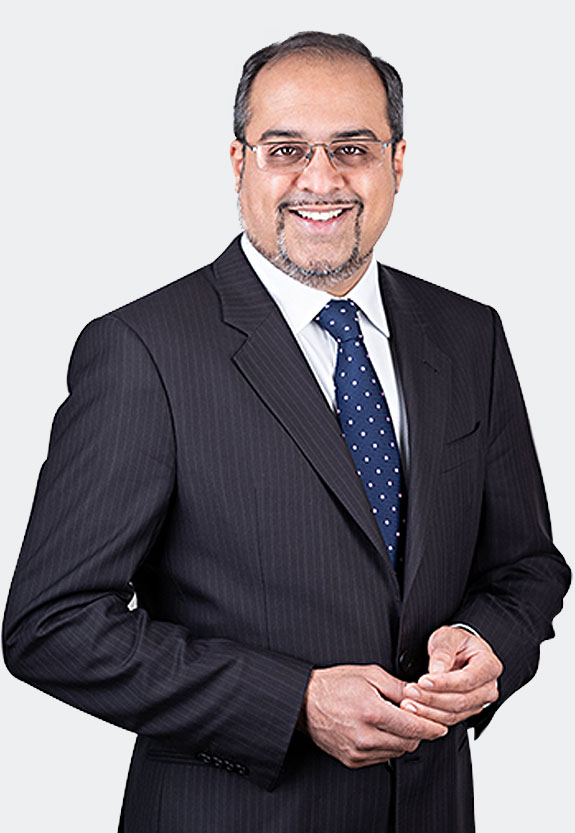 I am a dedicated hip and knee specialist with expertise relating to all adult hip conditions.
My two main areas of focus are in Hip Joint Preservation Surgery and Joint Replacement Surgery of the Hip and Knee.
As a fellowship trained Hip Arthroscopy surgeon, it is always a pleasure to see any patient who is struggling with conservative active therapy.
Hip Joint Preservation (keyhole or arthroscopy) is a philosophy of doing our utmost to keep your natural hip joint in the best health and function, for as long as we can. My goal is to bridge the gap for those patients with early wear and tear hip problems that are not ready for a hip replacement. With a biological reconstruction rather than metal implants, we can help you to achieve your goals whilst still allowing you to keep your natural hip joint. Our multidisciplinary super team will ensure you have the best care and results possible using the latest innovations including regenerative stem cell therapy using your own bone marrow cells or lipogems augmented with collagen scaffolds to preserve your joint. This is called AMIC / BMAC / Lipogems.
Another area of specialist interest is in sports injuries for young active adults. I have successfully treated patients and returned them to their targeted athletic / sporting goals. These include conditions such as hip cam, pincer or subspinous impingement, all forms of femoro-acetabular impingement. If left, these also result in labral tears, cartilage damage and focal articular cartilage defects that be repaired or reconstructed, if found and treated in time.
Areas of expertise also extend to delivering pain relief from trochanteric bursitis, hip & gluteal core buttock pain, ITB syndrome and lower leg pain as these conditions often occur in conjunction with sports injuries in active patients and people suffering from arthritis.
A key factor in advising patients about their hip is knowing when we can save the natural joint or when to consider a Total Hip Replacement.
I have completed two world renowned hip replacement fellowship programs in Sydney and the Royal National Orthopaedic Hospital, Stanmore to provide an exceptional high-quality joint replacement service with enhanced rehabilitation and have a cohort of very happy customers. Please see my patient reviews on www.iwantgreatcare.org
I also offer a personalised custom built bespoke surgical plan using the latest but safe and well proven technologies including navigation and robot assisted surgery joint replacements to ensure the highest degree of accuracy and detail in this digital era.
The Mako Robot Assisted Surgery (Makoplasty Surgery) offers the world's most accurate hip joint replacement, partial and full knee replacements. I am honoured to be part of a select group of elite surgeons trained in this pioneering technique that has proven superiority over a standard operation, exclusively at the Princess Margaret Hospital, Windsor.
When not at work, I enjoy spending time with my two kids, Ronak (10yrs) and Sohani (4yrs) and wife Nim who is a local dentist.
I'm an enthusiastic surgeon, chef and BBQ pitmaster.
Check me out on Instagram (@Londonhipsurgeon & rishichana1), LinkedIn and YouTube!
My practice locations include the BMI Princess Margaret Hospital in Windsor, Spire Thames Valley Hospital in Wexham and BMI Chiltern Hospital in Buckinghamshire as well as Schoen Clinic in Central London & Harley Street.
Adult Hip & Knee
Hip Replacement
Minimally Invasive Hip Replacement
Knee Replacement
Partial Knee Replacement
Mako Robot Assisted Hip and Knee Replacement Surgery
Sports Hip Pain
Hip Arthroscopy (Keyhole Surgery of the Hip)
Hip Labral Repair Surgery
Hip Impingement Surgery
Hip CAM Osteoplasty
Hip Pincer Takedown and Labral Repair or Reconstruction
Hip Labral Reconstruction
Hip Micro Fracture Surgery
Hip Biologics Surgery
Hip Biological Reconstruction
Young Adult Hip Pain
ITB / Gluteal Pain
Trochanteric Bursitis Pain
Mr Rishi Chana has a particular interest in joint preservation surgery, biological repair and joint replacement enhanced recovery surgery and rehabilitation.
Mr Rishi is currently studying joint preservation surgery and biological repair of hips to increase the longevity of your natural hip joint.
He also runs his own international fellowship program for higher surgical specialist teaching.
Mr Rishi has also recently published in his field of expertise, on the forefront of current implant and bearing technology as well as clinically relevant research that has improved evidence-based practise internationally. He is a keen teacher and lectures on a regular basis to orthopaedic surgeons and allied health musculoskeletal staff.
IWGC Award 2020 Certificate of Excellence
Sports & Exercise Medicine PG Cert
Professor Fred Heatley Research Award (2011)
MSc Thesis Distinction
BSc Honours
PG Med Ed Merit
To view a video presentation of cutting-edge research presented at British Orthopaedic Association International Congress, by Mr Chana in 2011 via the link below:
HIP
10-year results of Oxinium and Verilast Total Hip Replacement. Hip Int 2018
Mid term results of 3rd generation alumina on alumina ceramic bearings in cementless THA. A 10-year follow-up study.
J Bone Joint Surg Am. 2012 Jan 18;94(2):138-44.
Mixing and matching causing taper wear: Corrosion as a cause for pseudotumour.
J Bone Joint Surg Br. 2012 Feb;94(2):281-6.
Early diagnosis of delayed vascular injury associated with revision hip arthroplasty.
Hip International, 16(2): 89 – 92, March 2006
Ceramic-on ceramic bearings in young patients: Outcomes and activity levels at minimum 10-year follow-up
Bone Joint J 2013; 95-B, 1603-9
The Metaphyseal-Diaphyseal Score index: A novel method of preventing intra-operative periprosthetic fracture in modern uncemented hemiarthroplasty.
Journal Ortho Surg & Research, 6:59,18 Nov 2011
TRAUMA
The role of MRI in the diagnosis of proximal femoral fractures in the elderly.
Injury, Int J. Care Injured 2006, 37, 185-89
KNEE
Warfarin management oin patients on continuous anticoagulation therapy undergoing TKA.
JBJS Br 93-B,11, p1497-1502, Nov 2011
Long term survival of High Tibial Osteotomy for medial compartment OA of the knee.
Am J Sports Med January 2011 vol. 39 no. 1 64-70
5 to 8 Year Results of the Uncemented Duracon Total Knee Arthroplasty System.
Journal of Arthroplasty, Vol 23 (5), 677-682, August 2008
A Case Report: S. Marscescens infective arthritis following knee arthroscopy.
Int. Journal of Orthopaedic Surgery. 2007. Volume 7 Number 2
Steroid induced stress fracture of medial tibial condyle: A case report.
Journal of Knee Surgery, E-first June 2011 DOI: 10.1055/s-0031-1280973
Efficacy of immunohistological methods in detecting functionally viable mechanoreceptors in the remnant stumps of injured ACL and its clinical importance.
Knee Surg Sports Traumatol. Arthrosc. 2012 Jan;20(1):75-80.
FOOT & ANKLE
Osteochondroma of the distal tibia leading to deformity and stress fracture of the fibula.
Foot and Ankle Surgery, Volume 9, Issue 2, 2003, Pages 129-130
History of Hip Arthroplasty. (Chapter 4)
Book chapter in 'Tribology and bearing surfaces in Total Joint Replacement'.
Editors: Streicher & Wang 2011
Joint Preservation Techniques and Hip Arthroscopy
AMIC 3rd International HIp Meeting Berlin 2019
Annual GP Musculoskeletal Study Day: (surreyorthopaedicclinic.com).
Hampshire and Surrey Knee Symposium: kneemeeting.com